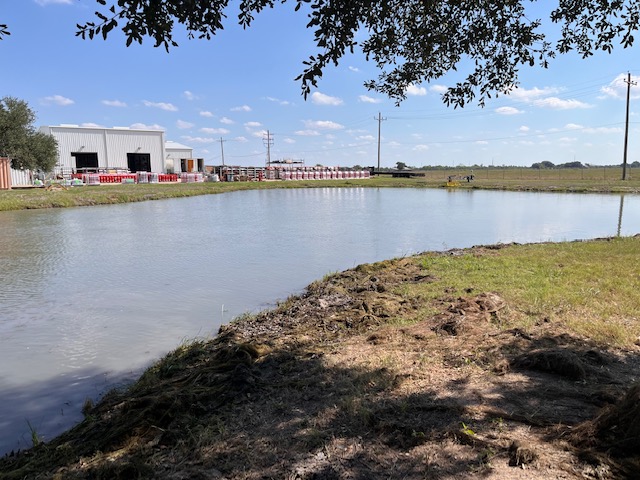 Professional & Affordable
Retention Pond Maintenance in Pearland, TX
Retention ponds are designed to collect and treat stormwater runoff, ensuring that pollutants and sediments are removed before the water is discharged into nearby waterways. Over time, these ponds can become overwhelmed with debris, silt, and other pollutants, reducing their effectiveness and potentially causing harm to the surrounding ecosystem. This is where Waterline Preservation & Management comes in. Our team of experts can provide a comprehensive cleaning and maintenance service for retention ponds, ensuring that they continue to function effectively and protect the environment.
With the City of Pearland's recent pond cleaning initiative, it's becoming more and more important to have a water cleaning professional. By partnering with Waterline, business owners in Pearland can ensure that their retention ponds remain in compliance and avoid any legal or financial repercussions. Plus, regular cleaning of retention ponds can help prevent flooding, improve water quality, and protect the surrounding ecosystem, making it a crucial aspect of environmental stewardship.
H1 heading
H2 heading
H3 heading
H4 heading
H5 heading
H6 heading
Here goes your text … Select any part of your text to access the formatting toolbar.
Hero heading
Lead heading
Sub heading
We Clean & Maintain
Various Waterways in Pearland, TX
Retention Pond Maintenance & Cleaning FAQs
What's unique about your retention pond maintenance?

Many people don't realize there's an alternative to using harmful chemicals for removing weeds and waste from their commercial or industrial ponds. By being able to float into a pond or body of water, our specialized equipment mechanically removes excessive vegetation in the safest and most environmentally-friendly manner possible.

Why is retention pond maintenance so essential?

It's important to have a functional drainage system for water waste and/or fire suppression. Unfortunately, algae blooms and nearby waste can seep into retention ponds– causing drainage problems for surrounding properties. This is why industrial retention pond maintenance is so essential. By adequately removing the overgrown algae and waste, you can protect your working environment and ensure proper water flow.
What is the difference between retention and detention?

While they may sound similar because they describe holding water in a reservoir, retention and detention are very different. Detention ponds are built to allow water to slowly dissolve back into the ground, and retention ponds are built to hold water indefinitely. Because of the static conditions, retention ponds can be put at risk for erosion, sedimentation, and algae growth.

What other services do you provide?
Hear From
Satisified Clients
We thought our ponds were beyond hope and thought it may be easier to fill them in and start from scratch. We had to belly crawl to access even just a small portion of the water. Even when we were able to reach the water it was impossible to cast a line or even to comfortably set up a chair to enjoy a sunset due to the 8ft high cat tails and bamboo.Waterline Preservation & Management saved our ponds!! Not only did they save the ponds but all of the fish and wildlife are now thriving! We can now
Our boat slip, along with our neighbors dock, were completely overgrown with duckweed last summer. After a friend had recommended Waterline Preservation & Management we made the call. Within 3 days they had the entire cove we live on completely clear and free of all the grass that was killing our outboards. We all love this guy and have him coming back regularly to service our cove every 4-6 months to keep things in check.
We had 3 ponds that would be considered diamonds in the rough. The shorelines were just too overgrown with weeds and shrubs to even come close to accessing them. There was also 20-30 ft of duck weed and algae beyond the pond's edge that made it impossible to catch any fish. Waterline Preservation & Management was able to cut their way in to launch their boat and within 1 week had 360 degree access to all 3 of our ponds! We landed 3 of the biggest bass that we even knew existed in there. We can't say enough good things about these guys and their services!
Request a Quote
Need cleaning or maintenance for your retention pond in Pearland, Texas? Request a customized quote by filling out the form below. One of our representatives will get in touch with you within the next 24-48 hours regarding your estimate and will help answer any additional questions you may have.